Get the story on The Making of The Dreams in the Witch House Poster.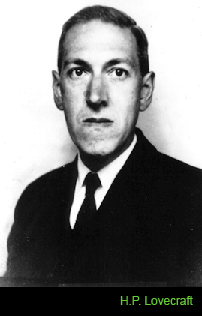 Read about H. P. Lovecraft's Chicago connection and Weird Tales magazine in an exclusive WildClaw article by Gwilym Games, Editor of Machenalia.
Plus, read the November 12, 08 Weird Tales article on Lovecraft, Chicago, and WildClaw.

"Spectacular" 1
"Elaborate, Creepy, and Baroque... The Show Works" 2
"Bloody Brilliance... A Gruesome Treat" 3
"RECOMMENDED - I was completely entertained..." 4
"You'd be a fool to miss..." 5
"Well Worth Seeing" 6
"Immense Entertainment" 7
H. P. Lovecraft's
The Dreams in the Witch House
December 21, 2008
Athenaeum Theatre, Chicago

Continuing our mission of bringing horror to the Chicago stage, WildClaw Theatre was proud to present H. P. Lovecraft's chilling tale of cosmic terror, THE DREAMS IN THE WITCH HOUSE.

This classic story takes place in the legend-haunted city of Arkham, where a young student arrives to study geometry at the infamous Miskatonic University. He takes a room in the Witch House, a residence thought to be cursed, and is plunged into a journey across dimensions of space and time, bringing him face to face with unspeakable horrors.
Adapted and Directed by Charley Sherman
Featuring:
Brian Amidei
Sean Bolger
Kate Brown
Casey Cunningham
Ryan Patrick Dolan
Chris Hainsworth
Carolyn Klein
Ron Kuzava
J David Moeller
Thomas Whittington


Charlie Athanas † Set Designer
Fraser Coffeen † Special Blood effects Artist
Scott Cummins † Fight Choreography
Paul Foster † Lighting Designer
Aly Greaves † Costume/Makeup Designer
Adam Kozlowski † Sound Designer
Jason Martin † Dialect Coach
David O'Brien † Assistant Set Designer
Jen Poulin † Stage Manager
Karen Tarjan † Movement Designer

1. Killer-works.com
2. Chicago Tribune
3. Time Out Chicago
4. Chicago Reader
5. Viking Youth Power hour
6. Kitley's Krypt
7. Horror Society

© 2008 WildClaw Theatre

All images and content belong to WildClaw Theatre.
If you want to use something from the site, please ask us or you may find the Hounds of Hell at your door.
And maybe some slimy tentacle demons of the Old Ones.
WildClaw Theatre is dedicated to bringing horror, science fiction, and fantasy works to the live stage.
We believe the fantastique holds intimate power in the realm of live theater and we aim to put it there.